This article is written and released by Priscilla J. for Push More Buttons.
DJ Premier once said "we use to sample the records based on their pictures." He said this to the Berkelee Orchestra Music Director, when he was referring to how he knew about classical music. This resonated with me, mainly because I'm a graphic designer and a musician. (Source – Re:Generation Music Project Film).
I can't recall how many times I've been sent links to Soundcloud mixes or MP3's that have no artwork attached to them. This really puts a damper on my experience as a listener and a DJ. I love being able to look through my digital "crates" in Traktor and being able to find a track instantly based on it's recognizable artwork.
While the artwork doesn't make a good mix great or a good track great, it does round out the entire experience of listening to the piece of music. It demonstrates the listener that you as a DJ/Producer have considered every possible sensory experience of the listener. It demonstrates professionalism and perfectionism with hat last bit of detail you refuse to overlook. This leads me to my next point:
How do I get great professional looking artwork without any skills in graphics or money to pay someone?
You might be thinking, "Why should I trust this girl's advice and who is she to tell me how to make my album artwork?" For those of you that don't know me, I am a professional Art Director in Los Angeles and have been a designer for 10+ years. I've done work for clients such as Beats By Dr. Dre, Warner Brothers Records, Madonna, President Barack Obama, DJ Tech Tools, Dubspot, TNT, TBS, The Academy Awards, and so on. This list wasn't meant to be rant on the who's who of my clients but rather to gain your trust in my abilities and to trust the techniques and lessons that I will teach you on designing your own graphics to further polish yourself as a DJ/Producer and your music.
General Design & Typography Lesson
Okay let's get to the nitty gritty. This will be an on going masterclass for musicians on how to further refine themselves graphically and will have several sections. This first section will be a general overview and will focus on Album artwork. I will have a few ready-made templates to get you started and exploring. We'll be using Adobe Photoshop for the templates because this will give you the most options to texturize and refine your album art.
Great design is like a great mix. You don't quiet know why it's so damn good but you can feel it. This is because behind the hood of the design/mix there are a ton of subtle details that come together to form a cohesive solid piece. With music, it's the subtle effects that most of the crowd won't notice but can feel, with design it's 99% of the time the typography. Typography is the driving force behind a good piece of design. Being an active member of forums such as DJ Tech Tools, Native Instruments, DJ Forums, etc, the one thing I notice is when people are working on their logos they tend to go with the flashiest cheap fonts from dafont.com or other sites like it. To relate this back to music; it's like using the worst effect possible that sounds like garbage on a solid mix between two tracks. You've effectively just ruined a nice subtle transition with an overdone effect, rather than using a filter or delay. See filters and delays are classic effects that never do you wrong. They work on Dubstep, Electro, Hip Hop, and Drum and Bass. This same principle applies to typography and graphics. The classic typefaces that are drawn well apply to any type of artwork (within reason). Typefaces like Helvetica, Trade Gothic, Garamond, Times New Roman, and Din are by far some of the most universal typefaces out there. Think of them as your go to effects that don't wreck your mix but give them a layer of complexity that elevate you as a DJ/Producer.
Template Notes
1. All images used in templates are placeholders only. These images were shot by myself and I retain all rights. You will need to drop in your own images into the specified layer in the templates.
2. These are saved at the standard 800px x 800px size that is easily viewable in iTunes and Soundcloud.
3. All fonts are standard built in fonts for all macs and most window based computers.
Template 1 (Simple and Sophisticated)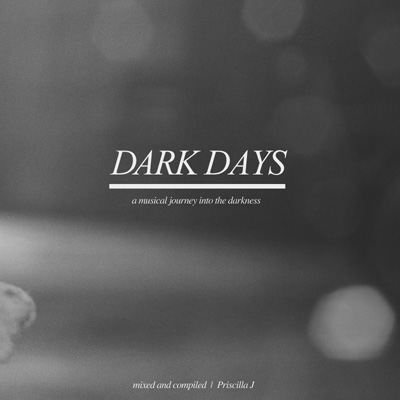 This template is meant to be used with a soft textured background image with simple and elegant typography. It uses a serif typeface in italics, this conveys an elegance and composed mix. The black and white color treatment reinforces that elegance but also brings in confidence and boldness.
This template brings in that nostalgic feel with soft light leaks and a mixture of ultra light and bold Helvetica. It would be a great visual for something like a beat-style instrumental hip hop mix. The background image should have a fair amount of empty space at the bottom, this will allow the ultralight headline at the bottom to show up nicely.
While template 1 and 2 depict very specific emotions this template is meant to be slightly more generic and the emotion or feel will be dictated by whatever image is dropped in. These images could be close up portraits, landscape shots, or gear porn images. Either way the simple Helvetica Bold will work with almost any image.
This template is similar to template 3 but uses a circular shape to contain the typography. While this template can work with almost any image it's not best suited for portraits as it can cover the face (unless of course you want that look, which can be cool).
These templates have the typography already set to specific sizes and letter spacing which as I mentioned earlier are those subtle details that the audience won't notice but make all the difference. Feel free to use these templates, but remember it's okay to play around with the positioning of things. These are meant to give you a starting off point and make it easy for you to create nice generic album art images in a crunch. Ideally you would have a concept and make custom art and illustrations based on that concept. Use these templates as a starting point and give it your own style with your own photography.
Once your album art is complete save it as a JPEG and embed it to your properly tagged MP3. Check out the difference in the below image of the same track with and without proper artwork and tagging.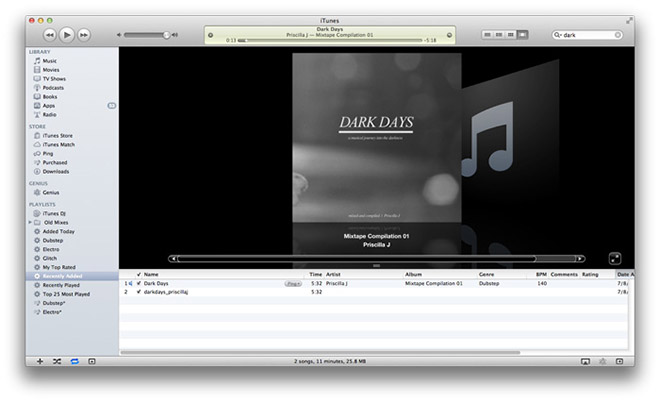 While the most important thing is still what's under the hood (your mix/track) the nice paint job will get you a few more nods. Taking the time to properly prep a mix/track for online distribution is a way of showing that you are a serious musician and take pride into your mix/track distribution.
It's crucial to note that this isn't for a promoter or producer to notice you, it's for your fans. The people that will eventually help pay your bills with their devotion to your craft by buying tickets to your shows. The people that will appreciate the visuals that will lace their iPod playlist. This step is for the person willing to take the time to enjoy your music.
I hope you enjoyed this post. Again, I cannot stress enough that this is the icing on the cake – not the batter and careful baking procedures that are the cake. Your music is still and will always be the number 1 priority. This masterclass in graphics for musicians is meant to demystify that scare world of design that so many people seem to either overdo or underdo.
Stay tuned for future Graphics for Musicians tutorials and templates.
Homework
Since this is a "class" I'd like for you to take some time to check out a few artist that I think are doing the right thing when it comes to graphics. Check out their album art, photography, and most importantly their typography. Write down the ideas that you like the best and use those as a guide to help you create your own artwork.
Related posts