Hey Midi Fighters, let's fight! I've got a little gift for all Controllerists and Midi Fighter Pro users out there. You can download and test my Extended Mapping for the Midi Fighter Pro (Cue Master Edition). This is still a Beta Version, because I will try to make the Mapping even more handy and stable. The downloadable zip file includes the Original DJTT Mapping for the Cue Master (.tsi), my Extended Mapping (.tsi) and a Special PDF Manual. It's made for Traktor Pro 2.1.2 and I use it in combination with the Traktor Kontrol S2.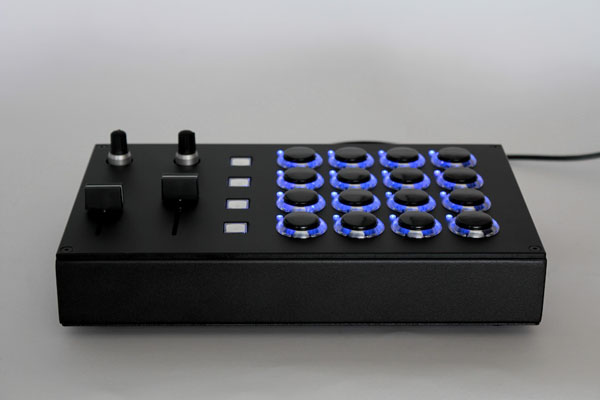 The PDF includes besides a chart of my Mapping the first complete description of the DJTT Cue Master Mapping, with all Supercombos and functions. I hope I have found all hidden funtions and combos. The last page of the pdf is a blank scheme of the Cue Master, so you can easily print it out and label it for your own needs. Feel free to test the Mapping to the bone and tell me your suggestions to make it better. Anyway, tell me what you think and send me feedback to this Email address.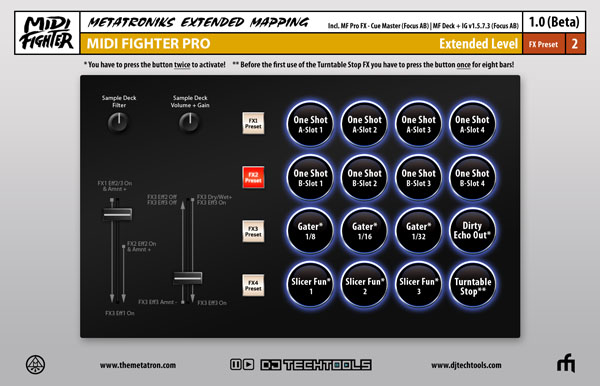 Metatroniks Extended Mapping Scheme – Click for HighRes
Finally a few words to my Extended Mapping. You can easyily switch between the original and my Mapping if you press the first two FX Preset buttons. The first preset is the untouched DJTT Mapping, so you can use the full power of both Mappings. The first two rows on top are mapped to play a One Shot Sample of both Sample Decks. Both knobs on the left upper corner are mapped to the Sample Deck Filter and to the Sample Deck Volume and Gain. So you can adjust all One Shot Samples on the fly.
The first three buttons in the third row are mapped to three different Gater modes. The Gator effect I've used is of course a bit different to the Gator effects in the DJTT Mapping. The fourth button in the third row is a "Dirty Echo Out" effect. Very useful for build ups and transitions. With the three "Slicer Fun" buttons in the fourth row can you create some nice glitchy breaks and effects. The last button is very powerfull, it's a quick "Turntable Stop". I have really missed this effect in the original Mapping, so I have build it by my own. The Dirty Echo Out effect and the Slicer Fun buttons are modified but based on the tutorials by Mr. Bedroom DJ.
DOWNLOAD THE COMPLETE ZIP FILE
DOWNLOAD ONLY THE USER MANUAL
DOWNLOAD THE BLANK CUE MASTER SCHEME
You'll find more Mappings and support on the DJ TechTools Website
Related posts