I'm very happy to present you the 4th release on KiLLERR Records. The debut single "Uncomplicated" of the Turbo Twin Brothers Dualesque.
The single is set to be released the 27 December exclusively on Beatport and the 10. January 2014 in all the other stores, accompanied with remixes from David Carretta (Space Factory, Gigolo Records), Electrosexual (Killerrrec) and Kalif (L.U.X.). And in addition a piano version with a children's choir.
To celebrate this release they will set FLUXBAU Berlin on fire with a fistful of KILLERRREC Artists and friends on the 21st of December.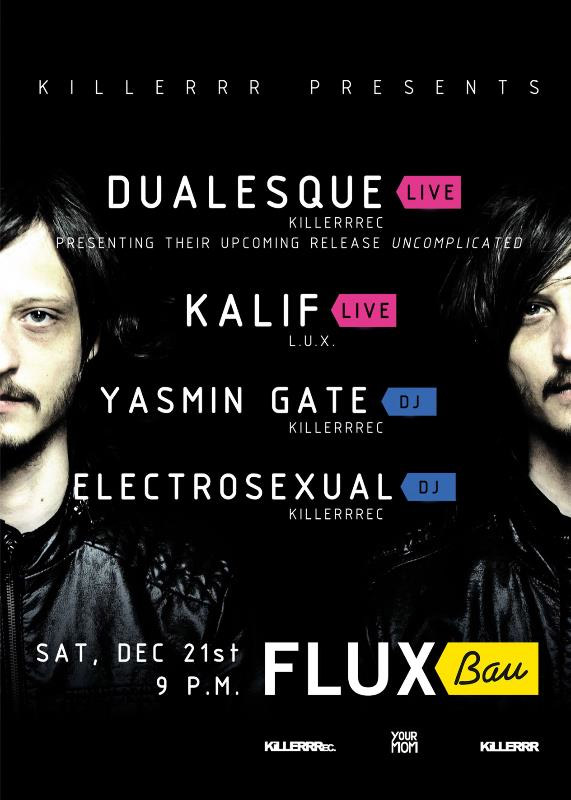 DUALESQUE – Live
Turbo twin brothers, Manuel and Mario Unterhuber create a wall of hot club noise with fuzzed-out techno beats fused with synthesized vocals. Check out their live video and get ready for the live thunder!
https://www.facebook.com/dualesque
KALIF – Live
Two guys with super skinny long legs discover their love for disco. Don´t miss their excellent remix treatment on the "Uncomplicated" Release.
https://soundcloud.com/kalifmusic
YASMIN GATE – DJ Set
Artist and partner of Killerrrec, Yasmin Gate recently released her club bomb "Spinning Around" which reached the top ten of the DJ MAG Spain charts. As a dj she is not afraid to mix electro tracks with darker techno or fresh house. So bring your dancing shoes!
https://www.facebook.com/yasmingate
ELECTROSEXUAL – DJ Set
Synth Tamer, Analog Fetishist & Arpeggio Afficionado, The Amylnitrate-Disko producer Electrosexual merges primitive analogic electronic music with original and sophisticated avant-hard programming. His single "Devolution" is still hot on Killerrrec. Don´t miss the remix he made for Dualesque´s "Uncomplicated" Release.
https://www.facebook.com/LCTRSXUAL
Felix-thecat – Visuals
The tireless Felix loves to shoot amazing visuals. A well known visual artist at best Berlin´s Clubs!
http://www.felix-jaekel.com/
Facebook Event:
https://www.facebook.com/events/393047764159266/
Resident Advisor Event:
http://www.residentadvisor.net/event.aspx?544613
Killerrr Event:
http://www.killerrr.com/featured/21-12-dualesque-release-party-uncomplicated-at-fluxbau/
LOCATION: FluxBau – Pfuelstraße 5 – 10997 Berlin
Related posts