Lay My Eye, is the new single by Electrosexual to be released on Monday 9th of December 2013. It has a synthesized and sensual energy with an ominous feel, foreboding a sense of impending danger. The cover art work is a screen print by Dutch artist Lukas Julius Keijser and Philip Marshall did the Layout. Both artist will also take care of the visuals for the album «Art Support Machine» to be released on March 1st on Rock Machine Records.
The video presents two personalities presumably belonging to the same person. We follow a young woman who, in her "control/robotic" state, is cold and strong with a machine-like automation. Then there is the "human" version of her, vulnerable and messy; these feelings are translated through the grit and grime of her natural surroundings.  Both characters mirror each other, they are fragmented versions of one, searching for the whole. "I wanted to play on the notion that maybe the robot was human all along while the human was the fraud" says Christine.
Itunes link: https://itunes.apple.com/de/album/lay-my-eye-edit-single/id757199802
Bandcamp link: http://electrosexual.bandcamp.com/track/lay-my-eye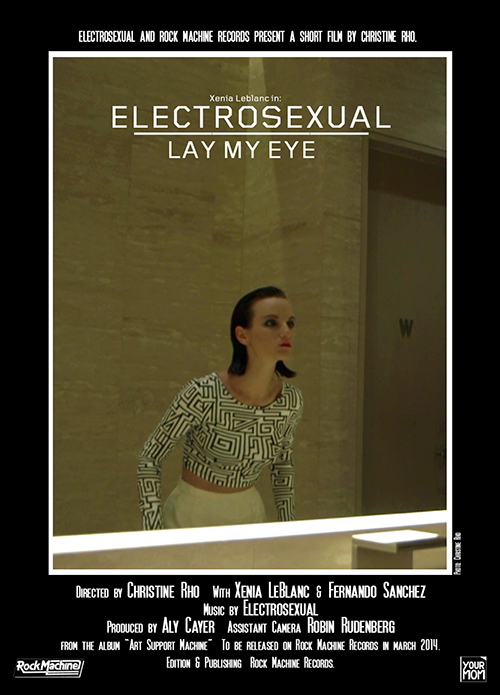 Lay my eye Lyrics
The way I lay my eye, The way I lay my eye on you
Away, I relive, I rely on you
We came across the river, we saw the light.
We passed the bridge with towers, way past Midnight.
We came into the fire, without a fight.
A world entwined with lovers, alone at night.
The way I lay my eye, the way I lay my eye on you
Away, I relive, I rely on you
We jumped and climbed the ladder, to reach the sky
We looked down at the gutter, to see the stars
We met and lost with other, came out of sight
Our Souls melt one another into the night
The way I lay my eye, the way i lay my eye on you
Away, I relive, I rely on you
By the time we were on our way
We remembered the light of day
We decided to run away
it was time we went out to play..
(Frequency/Stanway)
Electrosexual DJ dates and shows:
Dec 13 Live @ Tempelhof Video Premiere, Paris
Dec 19 Dj @ Möbel Olfe + Steve Morell, Berlin
Dec 21 DJ @ Dualesque Release party Flux Bau, Berlin
Jan 10 Live @ Ich Bin Ein Berliner Anniversary SO36, Berlin
Feb 22 Live @ Nouveau Casino, Paris
Related posts