The story began at the 13th of January this year. Sonny asked on Facebook the graphic Designers under his fans to made some new interpretations of his logo. I saw this post late at night and thought this would be fun! So I worked the whole night on the Redesign,  fixed some little things next day and uploaded it to his Facebook wall. You can imagine, I was not the only one who followed Skrillex's call. I guess there were over hundred posts with Redesigns in less than two days. The reason why I write this post right now is the progress around my Design since I've uploaded it. Of course, I know this was no official Design Contest and under the line it's just a Fanmade artwork. But I think I have it well done and Sonny's comment was just "fucking AWESOME"!

You can believe me,  as I saw Sonny's comment and there were 101 "Thumbs up" for my Design, I was really happy and overwhelmed! Three month later I've made a complete set of Desktop Wallpapers for all fans of Skrillex and of course for all who likes my Design.
So far so good, but there is also a shady side, at least from the view of a graphic designer like me. The design appears among other things on various Blogs as image for new Skrillex releases, which is absolutly okay for me. Accidentally I saw it also as background image for the official Skrillex Merch Onlinestore and a couples of days ago, a friend sent me a Facebook link of the Hungarian Trasher Party series. And what should I say? They used it also as background image for the Flyer!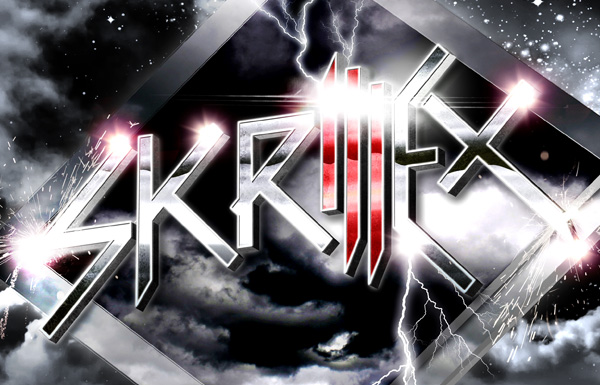 Download Free Skrillex Desktop Wallpaper Set
Sure, somehow it makes me proud that so many people like what I've done, but on the other side, no one….not a single one asked me for permission, or placed somewhere a little credit line! Is this the new kind of respect in the Interweb? I don't wanna be a Cry Baby, but this makes me a bit thoughtful. The worst example for disrespect showed a young guy at facebook. He took my Design, added a very poor Photoshop Effect on it and posted it to Skrillex's Facebook Wall, with the description "I WAS LISTENING TO SKRILLEX ND I MADE THIS ON PHOTOSHOP". Okay he isn't completly lying, but we know, he didn't "made it"!
Anyway, since the Design is around the web, I've got a lot of visitors on my blog and Google Shows the image on the second place on the first site, if you search for "Skrillex Logo", which is pretty cool!

At last I have to say, all this is about a fanmade Redesign and the Original is done by ROBOTO, a very, very talented graphic and motion Designer from Spain, I guess. I am not 100% sure, but he made the first Teaser Videos for Skrillex's "nice sprites and scary monsters" EP! So I think he made the Logo Design too?! And finaly I have to thank Skrillex for his music and inspiration!!!
So please tell me what do you think about respect, design, creativity or the using from graphics whithout permission and so on! I've posted here a lot of screenshots and links of the sites who using my Design, so you can see for your self what I'm talking about!
NOTE: For the future…if you wanna use this image for your blog, flyer or whatever…do it, but please send me a link where I can see it and don't use poor effects on it! Let it like it is or don't use it! And place somewhere a little credit line, like "Design by www.metatroniks.net"! Thanks!
Best,
The Metatron
https://www.facebook.com/photo.php?fbid=185587014793703&set=o.119702488081975&type=1&theater
https://www.facebook.com/photo.php?fbid=1972564710838&set=o.119702488081975&type=1&theater
https://www.facebook.com/photo.php?fbid=180435522016900&set=pu.141817709212015&type=1&theater
http://beat-town.com/2011/04/27/djs-picks-skrillex-korn-laidback-luke-david-guetta-diplo/
http://dailydoseofcool.com/2011/05/17/m0ar-skrillex/
http://www.dailytunez.com/2011/04/korn-feat-skrillex-get-up.html
http://digi10ve.com/2011/06/06/skrillex-new-ep/
http://www.google.com/search?q=skrillex+logo&ie=utf-8&oe=utf-8&aq=t&rls=org.mozilla:de:official&client=firefox-a
http://lxfong.blogspot.com/2011/05/sometimes-words-just-cant-explain-it.html
http://www.skrillexmerch.com/
http://pnutbutterjams.com/2011/04/28/died-this-way-skrillex/
http://www.thissongslaps.com/2011/06/skrillex-ruffneck-relok-remix-moombahcore/
http://scenekidpromo.blogspot.com/2011/05/back-seat.html
http://www.vndlsm.net/2011/04/all-i-ask-of-you-skrillextrypt-remix/
http://www.wallpapervortex.com/wallpaper-15504_skrillex.html
skrillex ep teaser from roboto on Vimeo.
skrillex ep2 teaser from roboto on Vimeo.
Related posts