Joystixx are Manek Deboto and Nuke Puke 'Em from Sidney – Australia. These two maniacs lift Electro-Cyberpunk to the final level.
I've planed this post including an interview with Manek for such a long time, but he is so busy at the moment, so we have to postpone the interview. Anyway, I will show you a small overview about Joystixx and some of their sideprojects. Seriously I can show you only a very small part of their work, because Manek and Nuke are so damn productive. There we have Joystixx as mainproject of the duo, they released in the last years various Albums, EPs, Mixtapes and Remixes, like the amazing Remix of Transformer di Roboter's "Rock Me Skitzo" which they made for my Skitzo Disko Remix Collection. Btw. the great Joystixx Logo at the top is made by Kilian from DW Design. If you like it, check out my post about his work here.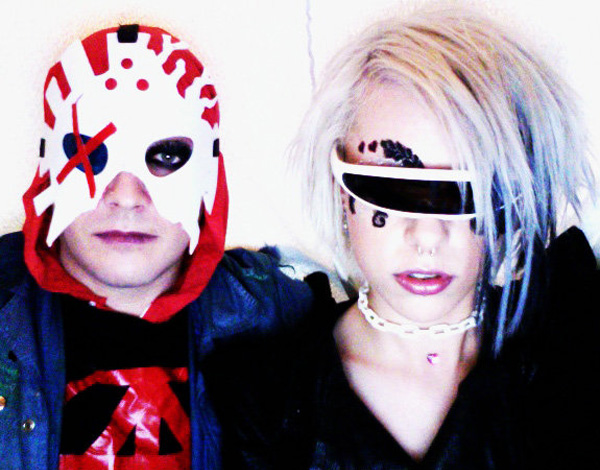 And now Joystixx about Joystixx:
:::::: WELCOME PLAYER$… 2 THE ARCADE ::::::
"LEAVE YOUR JOYSTICKS AT THE DOOR…WE R YOUR ENTERTAINMENT SYSTEM TONIGHT. JOYSTIXX R IN CONTROL… EJECT YOURSELF!!!"
Virtual entities, Nuke n' D-Bot-O, AKA Player 1 and Player 0, binary counterparts, lost on the outer rim of a deleted 64-bit terminal wasteland known as the Arcade, are suddenly jolted into reality on a chance encounter they bump into each other whilst running along the grid. Suddenly gripped by the new shift, dead-beat of their 3-Dimensional bodies, the once separated red and blue ghost holograms find themselves in a game of life and death in the real world as JOYSTIXX. Accessing their make-shift virtual terminals via symbol ports advertised on their chests, the destined duo draw upon the glitched-out, virus riddled information slots of their home world Arcade, using all aspects of virtual reality game play: sports, strategy, platform, role-play, fantasy and more, Joystixx quest to gain back control of their disintegrating entertainment system. Join D-Bot-O, the Dead-Beat Master Control, on his never-ending quest to save the girl, Nuke 3D, powered-up princess, provider of radical rap and rhythm. A thought-projected choose-your-own virtual reality romance serial put to music. You have been listening to the 3D-VR Arcade Soundtrack of JOYSTIXX. Visit us again sometime soon… Bring your friends!
D-STROY! And N-JOY! D-Bot-O AND Nuke
Got it?


Hell Yeah, I like the style and humor of those guys! The next hilarious highlights are a leaked Audition Videotape, made for the TV Show X-Factor and a selfmade Reality Comic Book with the title Video 4 Cassette.
Attention: Click here to load a Flash-Flipbook with 56 pages in a new site, so it can take a few seconds. Listen in the meantime to some of tunes or watch the videos at the bottom!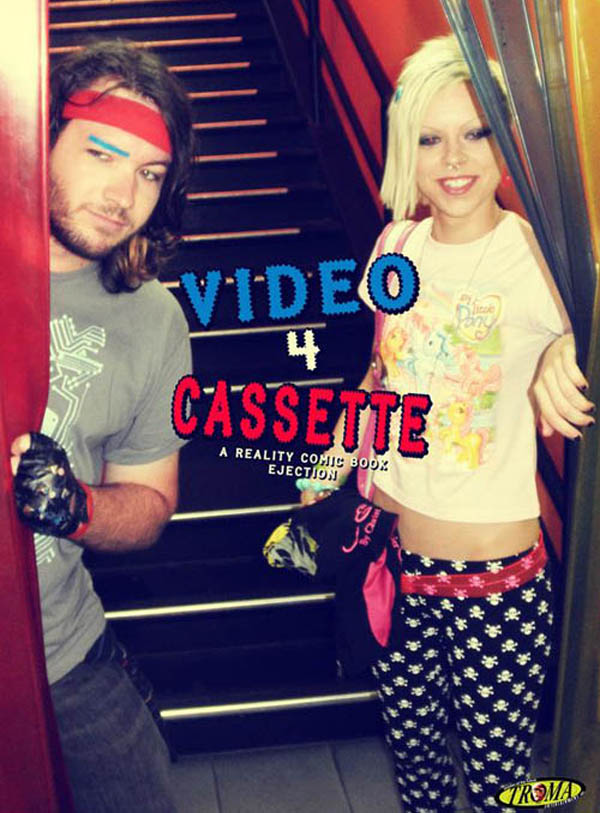 Download for free one of my favorite Mixtapes of the last Year, the Joystixx Bogus Devastation Meltdown MixxTape!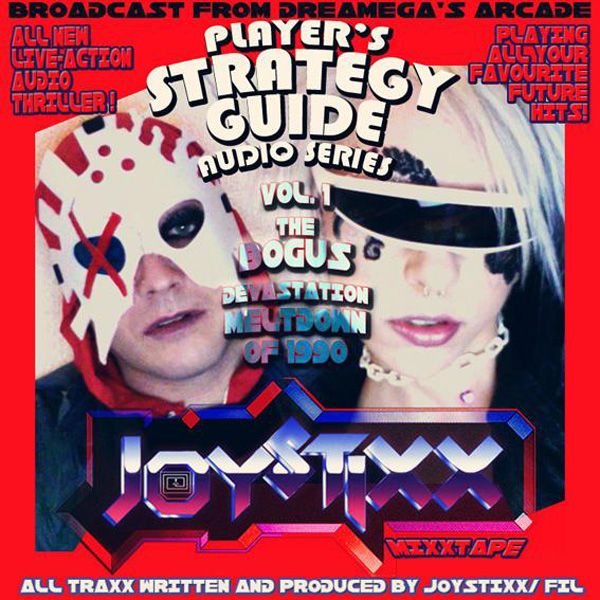 Joystixx Bogus Devastation Meltdown MixxTape by Joystixx
Transformer Di Roboter – Rock Me Skitzo (Joystixx Remix) by TheMetatron
Another mindblowing sideproject is the Cyberpunk Band DEDDERZ aka Dead Inside the Chrysalis. Dedderz was formed in 1998 out of the wreckage of pop-culture by subhumanoid brothers, Manek Deboto & Clark Bent… However there have been many incarnations of the tranz-dimensional rebel outfit known as DEDDERZ. From the thrash electro rock phase of DEAD INSIDE THE CHRYSALIS: 'Masters of Dreadwave' to the 2-piece punk pop electro feeds of DITC 2.0 to the experimental eccentricity of DEDDERZ: REZ-ERECTION led by Johnny Future and the Dropouts from the Class of 2099. Dedderz now resides more as a mult-media project curated by the infamous underground [esc] artist, Manek Deboto, not wanting the act to be pegged by the typical 'rock by numbers' notion of a band…

DEAD INSIDE THE CHRYSALIS: ACID NIGHT AT THE PROM (From the EP, CLASS OF 2099)

DEAD INSIDE THE CHRYSALIS: FUTURE SHOCK (From the album, HUMANOID EXPANSION PACK)
So stay tuned and watch out for their upcoming project BAD Channel and of course the new Joystixx stuff. You will find it here in the near future!!!
And if you can't get enough of Manek and Nuke, visit their sites on the Interweb and buy all the good stuff!
http://www.facebook.com/pages/Joystixx/169588408224
http://soundcloud.com/joystixx/
http://joystixxmusic.bandcamp.com/
http://www.myspace.com/joystixxmusic
http://joystixx.bandcamp.com/
http://mutantgeneration.blogspot.com/
http://www.facebook.com/pages/Dead-Inside-the-Chrysalis/161181389694
http://deadinsidethechrysalis.bandcamp.com/
http://www.myspace.com/deadinsidethechrysalis
http://www.facebook.com/pages/BAD-Channel/172986369385801
Related posts