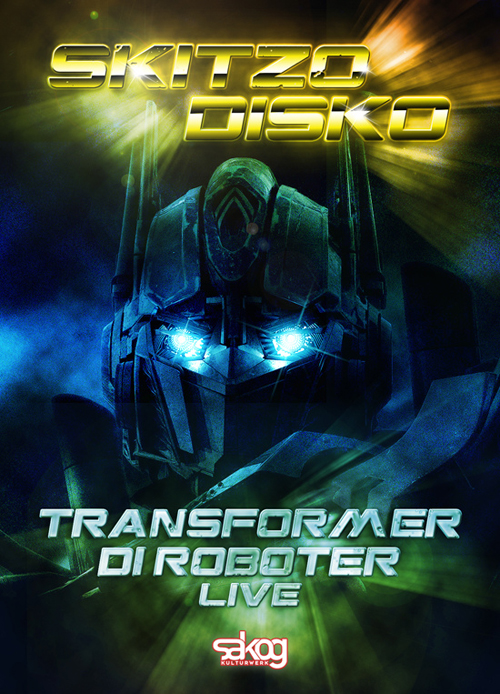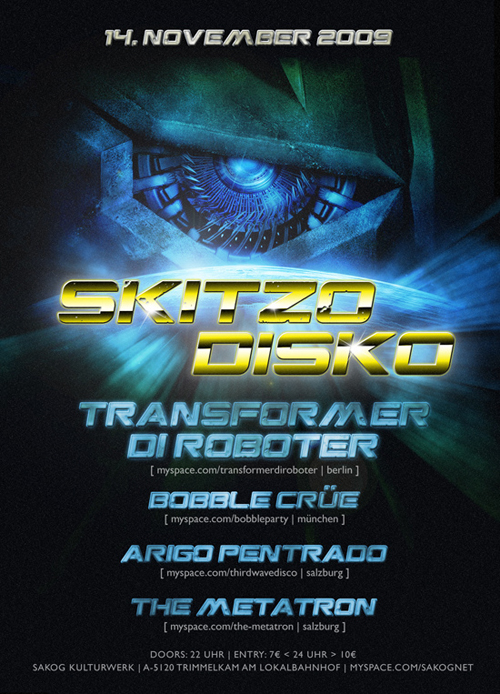 This was the last Skitzo Disko Party at SAKOG – Trimmelkam, with the great Transformer di Roboter live on stage. The guys from Berlin performed their "Rock Me Skitzo" first time  live. You know, the cool "Mash-Up-Cover" of Falco's – Rock Me Amadeus and Scenario Rock's – Skitzo Dancer! Check out the "Transformer Viva Austria Mix" and all the other remixes here.
The Bobble Crüe from Munich and Arigo Pentrado from Salzburg came along with real heavy electro DJ-Sets! Since this party, Skitzo Disko exists only online as Mixtape Series. I know, sad but true….but better than nothing!!
Transformer di Roboter
is a Berlin-based electronic pop music duo consisting of Alexander Kloster and Johannes Malfatti. They have released several EPs and have contributed to compilations on labels such as WMF Records, Planet Mu, Deco, Diamondtraxx, Klangkrieg, and L'Âge d'or. In their cover version of Michael Jackson's "Stranger in Moscow", they used Apple Computer's Macintosh startup sound to mimic the original's bass line. Transformer di Roboter work together with the Dutch Artist and VJ Arno Coenen. Kloster and Malfatti are also involved in other, more experimental music projects, such as Chlorgeschlecht and Dånzen Jetzt (with Olivier Alary). For their 2003 Chlorgeschlecht release "Unyoga", they received an Honorary Mention at the Ars Electronica in 2004.
Hi End by Transformer di Roboter
Transformer di Roboter Live, Paris 2006 + Puppetmastaz
Dvno Justice vs Transformer di Roboter DanceCamp DiscoChamp
Related posts