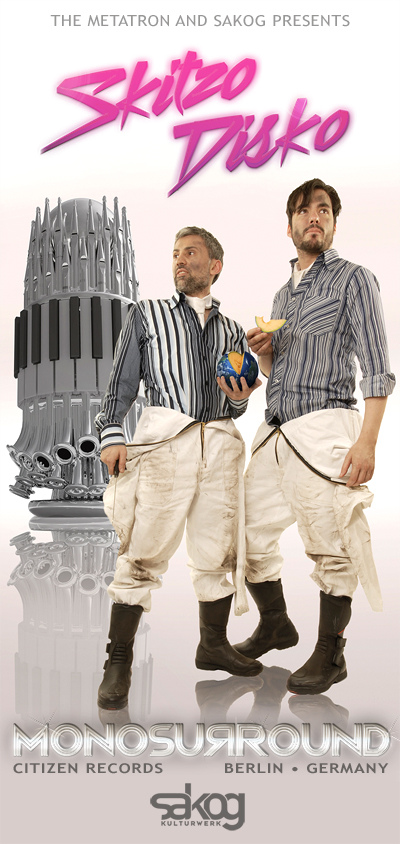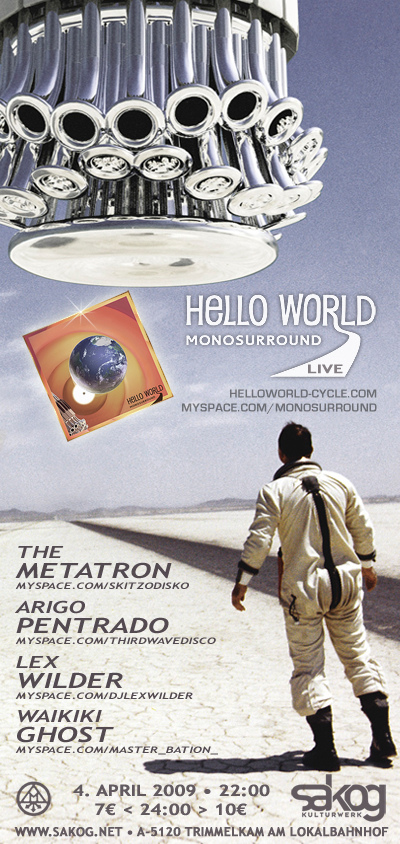 This was the 4th Skitzo Disko Party, first time at Kulturwerk SAKOG in Upper Austria. Monosurround from Berlin performed a awesome show of their Maximalism-Tour, first time in Austria. Supported by Arigo Pentrado, Lex Wilder and Waikiki Ghost.
Monosurround
Born out of a flash inspiration and musical necessity, the concept of Monosurround was first formed in 1999 in Berlin's notorious Kreuzberg district from the restless minds of Ramtin Asadolahzadeh and Erik Schaeffer. Monosurround wasted no time, immediately jumping into the fray with production on a pair of film soundtracks as well as a daring multi-piece live performance. They were driven by a desire to constantly re-define an ever-evolving and vibrant sound of modern electronic music. The following years saw Ramtin and Erik refine their sound and live performance, becoming a dynamic duo on stage, regularly providing the spark for dancefloors across the world with both their live sets and burgeoning DJ team. Unprecedented studio success paralleled their jet setting lifestyles, with the anthemic "I Warned You Baby" becoming a favorite of the summer of 2002, finding a home in both festivals and charts. Further hits only reinforced Monosurround as being one of the up-and-coming providers of storming electronic club music and naughty electro-pop, with a flurry of releases on a remarkable list of labels such as Superstar Recordings, Moonbootique Records, Dream Beat, 1st Decade Records and most recently France's leading Citizen Records (label of Vitalic). It is on this latest platform that the culmination of nearly 10 years of relentless and fanatical musical devotion gives birth to the long-awaited debut album from Monosurround, "Hello World".
Maximalism Tour
When Monosurround step on stage, you can say goodbye to the boundaries between audience and performer, and "Hello" to Maximalism. The duo Ramtin Asadolahzadeh and Erik Schaeffer present not only a masterful repertoire of musical styles, but also that illusive skill: to read and then their feed their followers exactly what they want. The Monosurround party – DJs and dancers alike – go on an intergalactic journey through countless universes leading inevitably to their unique, maximal sound. It's now available for you to experience on their "Hello World" – The Maximalism Tour. Ecstatic dance mosh guaranteed. It's no surprise that every concert and DJ-set these two play is a unique and heart-pounding experience. Monosurround stand for everything we want: overwhelming technical mastery, unquestioning passion, and absolute dedication to furious music-enjoyment. There's a new wave shaping the current musical climate. It's called Maximalism. Monosurround are not just showing us the door to this new sound. They are leading the revolution.
Related posts