This is the two hour extended version of Skitzo Disko Vol.4. The guys from KEEP≠REAL asked me for an exclusive 2h mix for there blog. It was fun to make this oversize mix with a lot of Electro and Indietronic tunes. The first version was just 80 minutes long, so I have to find a way to expand it to a length of 120 minutes. If you are a good listener, you'll find the beginning of the extended version!

I'll tell you…the extended part starts with the amazing cover version of Rihannas "S.O.S" from The Last Shadow Puppets!
The coverdesign is an adaption of the Looker Movieposter from 1981. Check out the trailer at the bottom!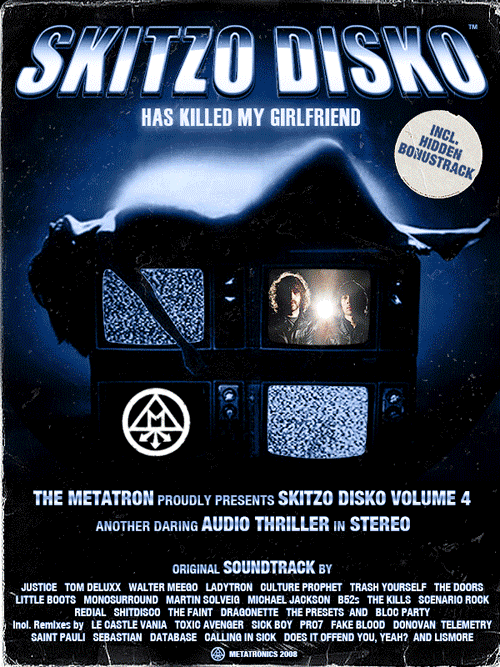 01. Justice – Planisphère (Metatronics Re-Touch)
02. Tom Deluxx – Drama Queen (Eclier Grinded Version)
03. Walter Meego – Through A Keyhole (Le Castle Vania Remix)
04. Ladytron – Ghosts (Toxic Avenger Mix)
05. Culture Prophet – Death Of The Party
06. Trash Yourself – Touch (Sick Boy Remix)
07. The Doors – Hello I Love You (PRO7 Remix)
08. Little Boots – Stuck on Repeat (Fake Blood Remix)
09. Monosurround – Cocked Locked (Summerized Club)
10. Martin Solveig – C..'est La Vie (Donovan Remix)
11. Michael Jackson – Smooth Criminal (Telemitry Remix)
12. The B52s – Juliettein The Spirits (Saint Pauli Remix)
13. The Kills – Cheap and Cheerful (SebastiAn Remix)
14. Scenario Rock – Both Gotta Move (Database Remix)
15. Redial – 1985 (Feat. Smacktown)
16. Shitdisco – 72 Virgins (Calling In Sick Remix)
17. The Faint – The Geeks Were Right (DIOYY Remix)
18. Dragonette – Jesus Doesn..'t Love Me (Lismore Remix)
19. The Presets – Talk Like That
20. Bloc Party – Mercury- (Telemitry Mercury Mix)
21. The Last Shadow Puppets – S.O.S
22. Coldplay – Violent Hill (Cryptonites Remix)
23. Santigold – LES Artistes (Grahm Zilla Remix)
24. Division Kent – In The Headlights (Melnyk Is Behind The Wheel Remix)
25. Sneaky Sound System – UFO (Van She Tech Remix)
26. Grum – Woah! (Young P 3018 Remix)
27. Revolte – Les Mecs Kleenex (Featuring Miss Wonder)
28. Grafton Primary – She Knows It (Cryptonites Remix)
29. Yo Majesty – Club Action (Shanks Bootleg Mix)
30. A Girl And A Gun – Beep (Overthrill Remix)
31. Hey Today! – Walk Through
32. Electric Youth & Minitel Rose – Replay (Minitel Rose Remix)
33. Panther DLX – Tell Take Signs
Duration: 119 Minutes
Related posts